ENQUIRE TODAY
Start your studies today – enquire now.
Start anytime
No need to fit in with our Semester Calendar!
Affordable
ICI College Australia is on a mission to help local churches train their leaders affordably!
Advantages to studying with ICI College Australia…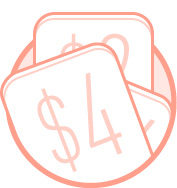 Low Fees!
We keep our fees to a minimum because we are committed to providing affordable ministry training to those who can least often afford it.
Start anytime
Start your studies anytime!
International recognition
ICI College Australia is one of only 5 Australian Tertiary Education Providers to be accredited with the world's leading distance education accreditation agency, The Distance Education Training Council. Our awards are internationally recognised. View our Prospectus.
It has been said that the best time to plant a tree is twenty years ago. The second best time is today! It's same with ministry education and training. No matter whether you just want to increase your knowledge of God, the Bible, and Theology, or you want to hone and sharpen your skills for vocational ministry, ICI College Australia can help!
Consider starting a Learning Centre in your church
ICI College Australia can you to commence your own Bible College in your local church. These 'Learning Centres' are fully supported by ICI College Australia, including material, marking, administration, and student services. To find out more click here.